The Benefits of Choosing a Phoenix Agency for Your Custom Website Design Needs
April 14, 2023
- Written by
Jessi Russell
If your company is in the Phoenix metro area and finding a local agency for your custom website design project is important to you, you're not alone.
5 Reasons to Work with a Phoenix-Based Agency
There's something special about being able to meet face-to-face with your web design team. Even though virtual communication has become common in the post-pandemic workplace, there are many benefits to working with a local vendor on your next website project. So read on if you're ready to take your website to the next level with the help of a local Phoenix agency.
1. A Local Agency Better Understands the Phoenix Market
A local agency naturally has deeper insights into the Phoenix culture, preferences, and trends that shape the market. That knowledge can come in handy when creating branding and a website design that better resonates with the target audience. Local designers will have a deep understanding of elements and design features that appeal to Phoenix's residents. Incorporating images, graphics, and symbols that fit the Arizona culture and lifestyle can help create a brand with a sense of familiarity and connection to the target audience.
A custom website design agency in Phoenix can also provide valuable insights into the city's competitive landscape. It can analyze the website design trends of the leading businesses in the area and provide recommendations on how to create branding to differentiate from the local competition.
2. Seamless Communication Leads to Higher Client Satisfaction
Another benefit of working with an Arizona-based website design agency is the ability to establish stronger relationships and clearer communication channels.
Choosing a local agency gives the opportunity for collaborative face-to-face meetings. This can be invaluable in establishing trust in the beginning phases of the project, as you may find it easier to get on the same page with your vision and goals when working with a creative team in person.
Working with a local agency also means emails are likely sent during the same working hours. This can help to speed up the communication process, which is particularly beneficial when there are strict deadlines to meet.
Setting up meetings is simpler when working with a local agency too, as you don't need to worry about time zones. This often reduces frustration or the potential for miscommunication when scheduling presentations.
3. Website Support is More Accessible
The ease of access to support and maintenance services is particularly important when it comes to maintaining a website. Website issues and downtown are inevitable. Because of this, timely communication from an agency partner is crucial for websites used as marketing and sales channels. A local agency can often promptly troubleshoot and provide solutions to critical website issues during business hours.
4. Working with a Phoenix Agency Supports a Local Business
Choosing to work with a website design agency in Phoenix has a positive impact on the community as a whole. By choosing to support a local business, you are contributing to the growth and development of the metro. You may find that this enhances the camaraderie between project members since they can find a sense of unity in being from the same city.
Phoenix agency partners are also likely rooted in the local community and involved in community events and initiatives. This can provide valuable opportunities for collaboration and cross-promotion with other local businesses.
5. You'll Experience Enhanced Accountability From a Local Partner
Local agencies have a vested interest in maintaining a good reputation within the community. This is because they likely depend on their reputation and word-of-mouth to attract new clients. This can benefit your business since you may find that a local agency is more invested in the success of your project.
Custom Website Design for Phoenix-Based Companies
At Motion Tactic, we design and develop custom websites for companies all over the United States. We especially love working with local clients at our Tempe-based office. We find there is a thrill in sitting around a table to iron out the details of a complex website project. And that magic can be difficult to recreate over Zoom.
Our highly-experienced web design team builds websites for companies in need of an impactful online presence. Our custom websites are designed with user experience in mind and our team of web and graphic design experts will create a unique brand identity for you.
We've worked with many companies in the Phoenix area to create custom designs for their website projects. Here is a roundup of some of our favorites.
InEight – Scottsdale, Arizona
InEight creates software to simplify the construction project management process. This helps construction teams deliver projects on time and on budget for clients worldwide. InEight's specialized product offering gives its customers the tools they need to manage every aspect of a construction project.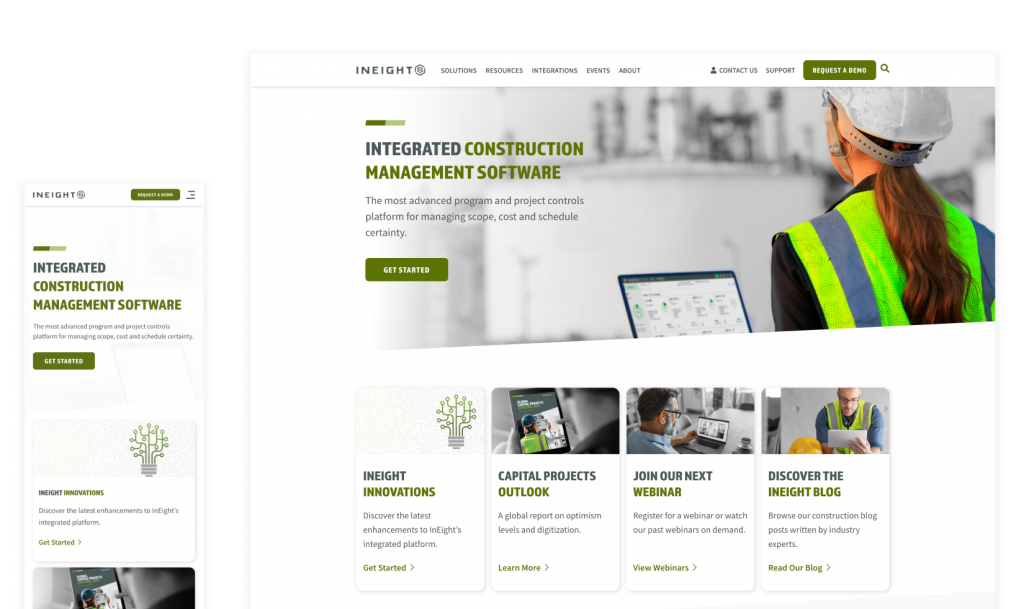 To set itself apart from competitors, InEight wanted a unique website design that was also scalable to its hundreds of website pages. The end result features many complex features including language translations, ADA compliance, Marketo integration, and more.
Awake Window & Door Co. – Gilbert, Arizona
Awake is a custom door and window systems manufacturer that designs with minimal frames to maximize your view. Additionally, Awake is committed to a humanitarian cause of addressing mass incarceration by creating job opportunities for a vulnerable population.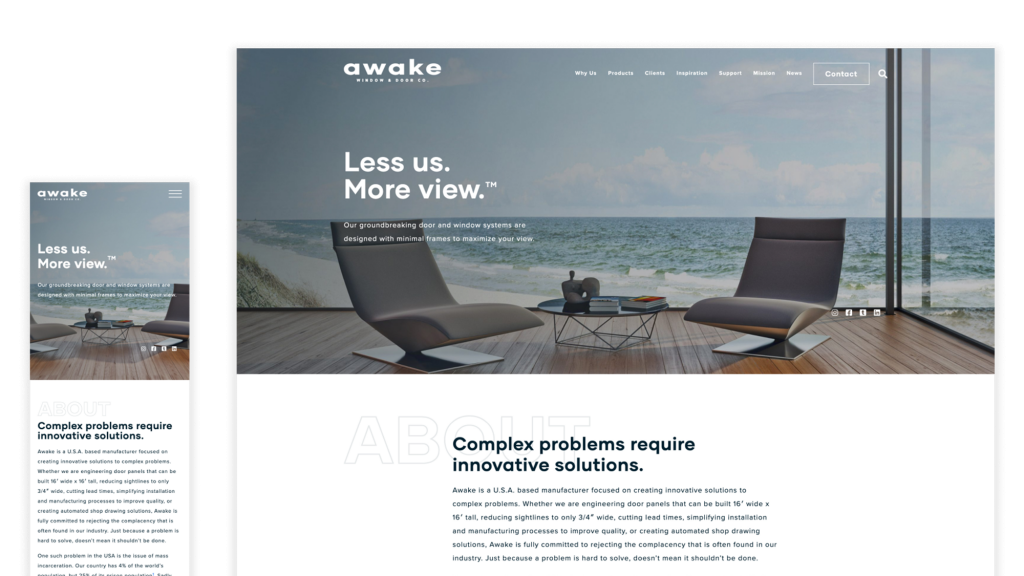 We created a luxurious yet understated website design to showcase the Awake story of a bespoke windows and doors manufacturer with a philanthropic agenda.
AmeriSchools – Phoenix, Arizona
AmeriSchools Academy is a charter school network with multiple locations around Arizona. AmeriSchool's goal is to develop lifelong learners who are compassionate, culturally sensitive, effective, and responsible citizens.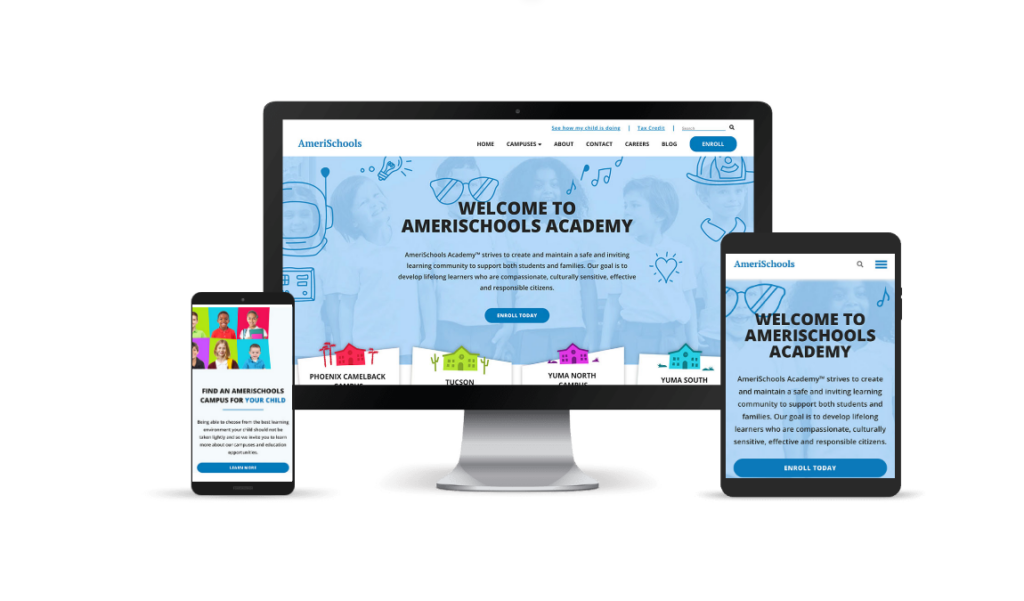 AmeriSchools got in touch with us because its website had been flagged by an ADA Compliance advocacy group. The previous website wasn't easy for everyone to use, especially for those with disabilities. In light of this, AmeriSchools decided to give their digital identity a complete makeover. We created a colorful, animated website experience while maintaining ADA compliance.
Benevilla – Surprise, Arizona
Benevilla is an Arizona-based organization that provides services for senior adults, adults with disabilities, and the families that care for them.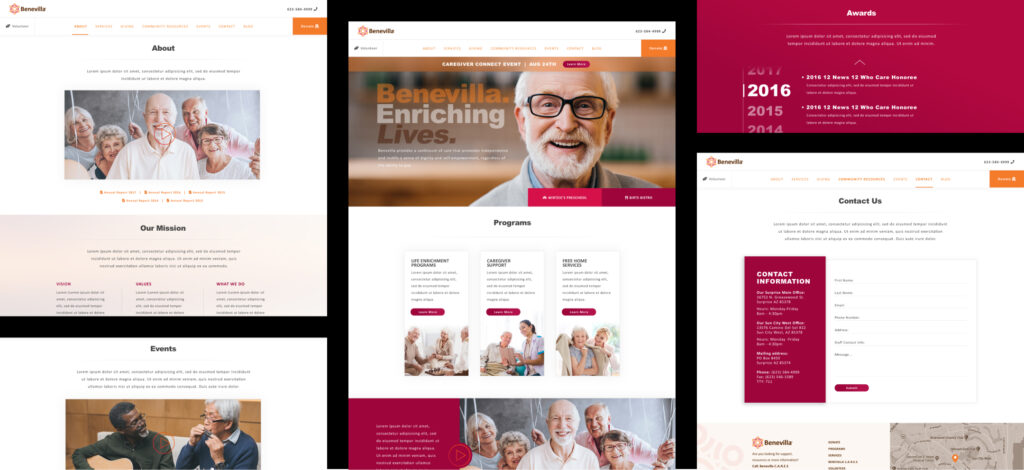 We worked with Benevilla to create a new website for their non-profit organization that's easy for people of all ages to use. As you scroll down the homepage of Benevilla's website, you will learn about their goals and mission. Clicking through to other pages will lead you to discover more about their story and how they help people.
Power Strike Pest Control – Phoenix, Arizona
Power Strike Pest Control is a Phoenix-based pest control business that keeps families and businesses safe from unwanted pests. The owner of Power Strike Pest Control reached out to Motion Tactic for a full rebrand and a new website.
We began by creating a modern brand that represents the company's reliability, quality service, and kindness. Once branding was in place, we began the process of creating a new website that would be attractive and easy-to-use for his current and potential clients. The finished product is a fast, responsive website that Power Strike Pest Control can be proud to show off.
Contact Us for Custom Website Design in Phoenix
If you're looking for custom website design and development in Phoenix, Arizona, our Tempe-based team would love to connect with you. We work best with clients who care about creativity, professional web development practices, and a high-touch customer experience. If that sounds like you, please fill out the form on our Contact page.