Writing good custom website copy is no simple task. Throwing words and phrases on web pages without thought can result in decreased traffic, bad SEO and an overall negative brand experience. At Motion Tactic, we've discovered that we can write successful copy for any website by following these steps below.
Write For Your Ideal Customer
Avoid writing web copy to appeal to everyone. More results and engagement will be seen when copy is written with your target audience in mind. A good first step for writing great web copy is to think of your ideal customer: what is their persona?
Discovering your ideal customer persona will help you come up with the right language and structure for your custom website copy. Your target audience will be more engaged and more likely to respond positively to your website because the copy was written specifically for them.

Follow The StoryBrand Framework
Once we come up with our customer personas, we then follow the StoryBrand BrandScript. We first determine what their goal is and how we can help them get there.
The model goes like this: A character (customer) has a villain (problem), then meets a guide (you) who helps them establish a plan and calls them to action, ending their story with success and avoiding failure.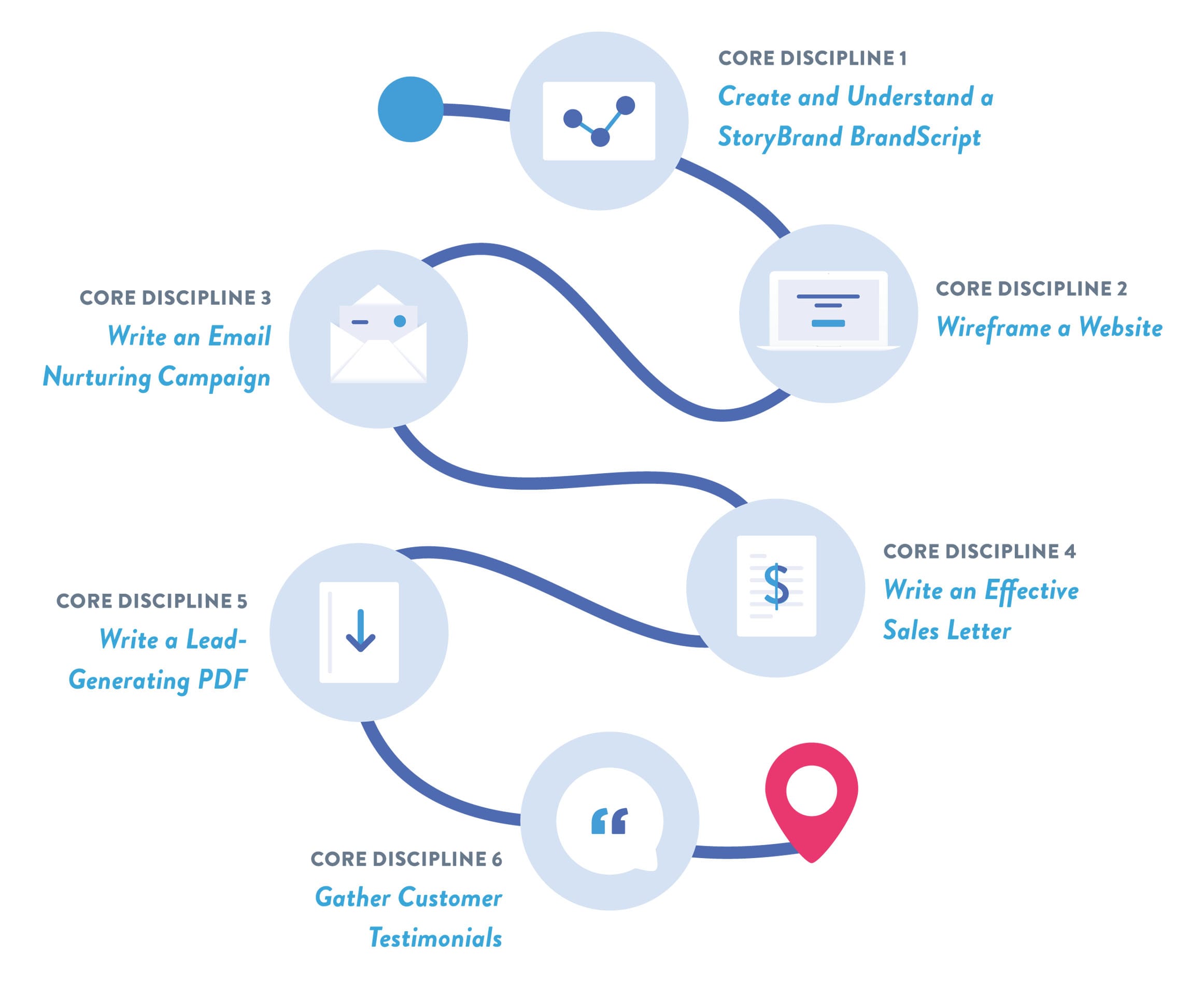 (Image from StoryBrand)
Watch movies or read books such as Star Wars and Hunger Games and you will see that this is the basic structure for almost any story. Your custom website copy should tell customers that you can be that guide that leads them to success.
The Motion Tactic BrandScript allows us to help our ideal client meet their goals for a website.
If you take a deeper look around our website, our copy is geared toward this BrandScript. Our writing is specifically tailored toward people who want to feel proud of their brand and are looking for a guide to help them. This gives us the best opportunity to reach and help our ideal clients.

Wireframe
After developing a BrandScript for our ideal customer, our final step is to wireframe. Specifically for new custom websites, wireframing is when you make decisions about the architecture of your website along with the placement of your copy. Your copy's placement is just as important as what it says.
A message about who you are and what you do should be clear right away, and a primary and secondary call to action should be easy to see. For new and existing sites that want to refresh copy, insert writing generated from your BrandScript into strategic areas such as your about page, home page hero section, and contact page.
If you put in the time and effort to find your ideal customer, develop a BrandScript and create a wireframe, your web copy will resonate with your audience and your site will generate the results you are looking for.