You may have had a custom website built a while back that was state of the art at the time, but is it up to industry standards today? We've compiled a few signs that can tell you when it may be time for a website update or redesign.
Mobile Responsiveness
Does your website view and function well on mobile devices? The constant increase in website visits on phones and tablets means it is more important for your website to deliver a great user experience on all devices.
Website developers have the ability to implement code and test the responsiveness on all platforms. So when someone looks on your site from a phone or tablet, it still looks great!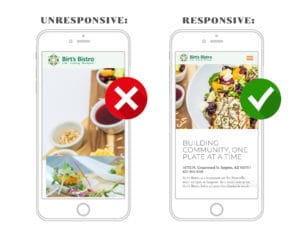 Higher Industry Standards
The standards for custom websites in your industry may be significantly higher than they were years ago. Consumers will often check out an organization's website before working with them or purchasing anything.
Have you checked your competitors' websites lately? A new custom website could give you a powerful advantage in terms of gravitating people toward your business.

Website Speed
Statistics show that the average time a visitor will wait for a webpage to load is around 3 seconds. If your website's loading time is slow and your bounce rate is high, it could greatly improve with updating code. Not only will fast loading speeds keep visitors on your site, it will help with your site's SEO ranking.
Is it time for your site to be updated or redesigned?
Let us know
if now is a good time to start the conversation.