Who is Birt's Bistro?
Birt's Bistro is a restaurant on the Benevilla main campus in Surprise, Arizona, whose social enterprise model helps to support the charitable work that Benevilla does in the community. Benevilla is a charitable organization that provides extensive support services for older adults, adults with disabilities, children, and the families who care for them. All Birt's Bistro proceeds go to supporting the programs and services of Benevilla. See our solution for creating a website for their social enterprise.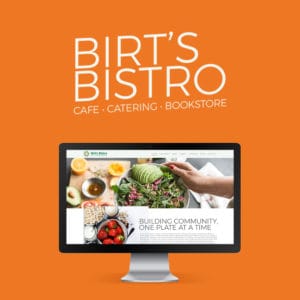 Website Goals
The Benevilla website had a section for Birt's Bistro, but it was not enough to show everything they had to offer. Birt's Bistro had a menu, events and entertainment, catering, and more to show customers online. They needed a central source of information to show how they served the community and how the proceeds from the customers went directly toward Benevilla programs.

Our Solution
Our solution was to create a custom Wordpress website that met Birt's Bistro's goals, in addition to allowing the staff to easily edit and update the site as their menu items and events changed. In order for users to easily find and access information, we created a navigation bar to get them where they wanted quickly. This included a link to the Benevilla newsletter to keep customers regularly updated on the programs they are supporting. As for design, we matched Birt's Bistro's atmosphere with a warm website layout that gave users a unique Birt's experience. Lastly, we made sure it was clear that Birt's Bistro was a social enterprise of Benevilla, creating donate buttons and learn more sections specifically for the parent organization.
Take a look at the new Birt's Bistro website here.