Did a feeling of uneasiness come with the May 4 announcement of the Google algorithm update? We understand - change can be scary, especially when it impacts your business. We're here to help break down what a Google broad core algorithm update is, and more importantly, how it may affect your website so you can prepare for changes in traffic.
What is a Google Core Algorithm Update?
A broad core algorithm update is a periodic update to search results that Google releases to improve the end-user experience. These updates are changing the requirements and importance of 200+ ranking factors, aiming to better match search queries with relevant websites. While these updates don't happen quickly (they can take weeks to completely roll-out), they can quickly "make or break" websites.
Later today, we are releasing a broad core algorithm update, as we do several times per year. It is called the May 2020 Core Update. Our guidance about such updates remains as we've covered before. Please see this blog post for more about that:https://t.co/e5ZQUAlt0G

— Google SearchLiaison (@searchliaison) May 4, 2020
Here's Why The Latest Google Algorithm Update Matters
The May 4, 2020 update has been called, "an absolute monster," with unprecedented volatility for Search Engine Results Pages (SERPs) shown below.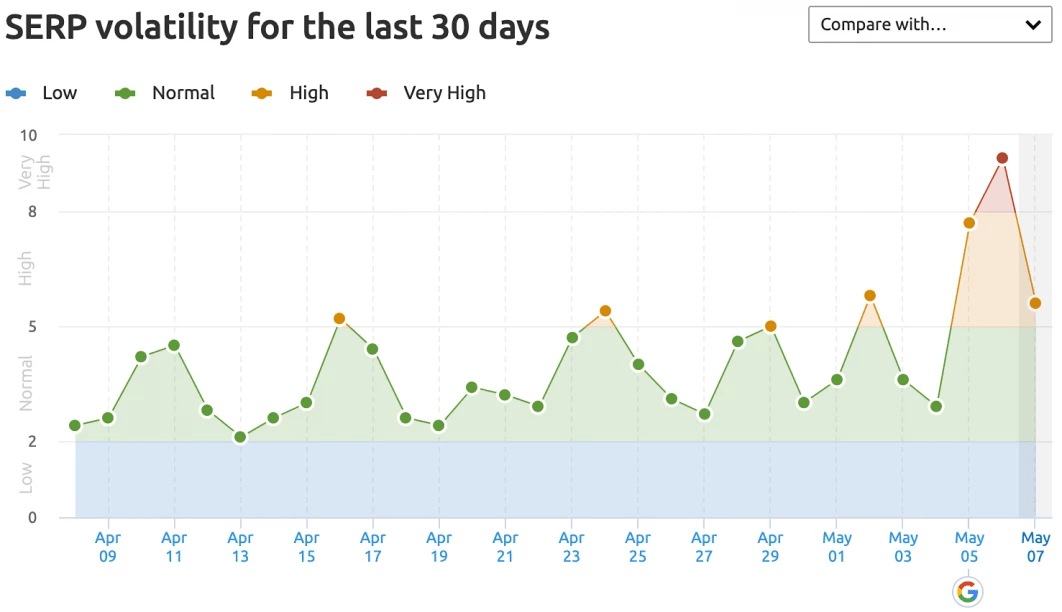 SERPs are the pages displayed by search engines in response to a query by a user and Google algorithm updates drastically change where certain industries rank in Google search. This affects organic search and how users find and interact with businesses. In our opinion, this recent core algorithm update is Google's reaction to COVID-19. Google's top concern: How do we connect people with accurate information?
Notice a recent drop in website traffic? The latest Google algorithm update may be to blame. Or, if you're seeing an uptick in traffic, you may have the recent update to thank. It's largely dependent on your industry.
A lot has changed, but overall, these are the industries impacted most: Travel websites, health websites, real estate sites, pet & people related websites, and people & society websites. Keyword ranking, Google My Business (local pack) ranking, and Google "Top Stories" are the most noticeable changes made in search.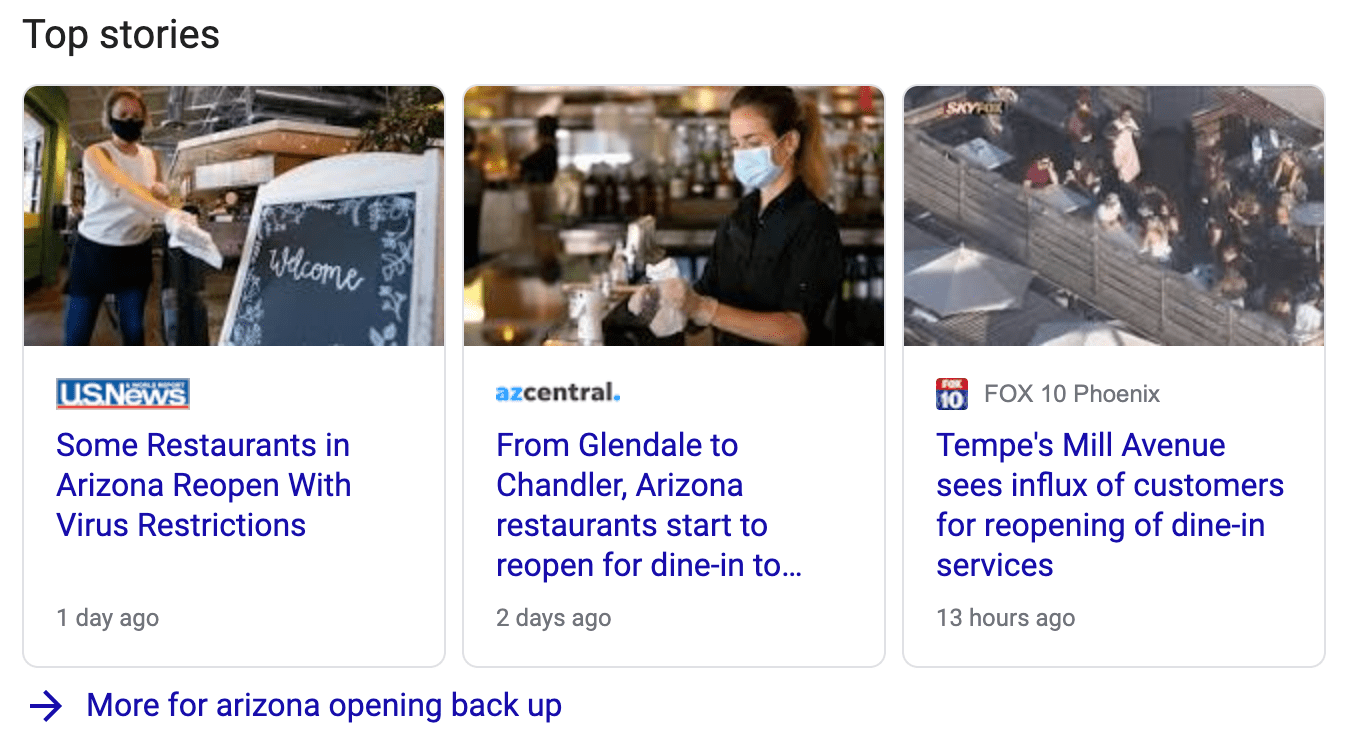 Example of Google "Top Stories."
Our Recommendations for Clients
Even Google says websites that see a drop in traffic following the core update "don't have anything wrong to fix." However, we all understand that answer may not suffice. To start, we recommend reading Google's official guidelines, which will help you navigate this core algorithm update more easily. Google's biggest tip? Make sure you're offering quality content.
Second, watch your traffic! Become best friends with your Google Analytics account and note nominal changes, good or bad. If you're seeing a significant loss in organic users: Stop, drop, and roll all efforts toward improving your organic search rankings.
Some immediate actions to take if you've been negatively impacted by the broad core algorithm update:
No Change in Traffic after Google's Latest Algorithm Update?
Great work! Maintain your organic traffic and grow your customer base by following white hat SEO tactics only.
Take it a Step Further - We Can Help!
Our resident SEO/digital marketing manager, Katheryn, is here to help! Send an email to info@motiontactic.com to request your free search analysis. We'll outline the impact of Google's core algorithm updates over the last year and solutions to remedy your loss in traffic and rank.