Why is website customization popular?
People buy custom suits and build custom cars for a purpose: customization fits you and helps you stand out from the crowd. A custom suit will look and fit like no other, while a custom car will drive like you want it to and make heads turn. Website customization is no different.
Custom websites can be built on a platform like WordPress with a variety of themes, complete with pre-made design and code. You can buy websites like these just like you can buy a stock car or a suit off the rack. But if you want a website that fits your organization and makes it stand out, customization is worth the investment.
What do we mean when we say "custom" website?
We mean starting from scratch: designing something awesome that specifically fits your company's vision and branding, then carefully crafting code that keeps your site fast and free from messy, unsafe plugins. This also makes it quick and easy to add content and make updates, no coding knowledge needed.
It is becoming increasingly harder for businesses these days to grab and retain people's attention, and pre-made themes could never represent your organization's unique vision just right. If your website uses a pre-made template, it will probably look like most other sites out there.
Chances are, your visitors won't pay any more attention to it than the next website they see. The only way to truly stand out is to have a custom website specially tailored to your company's vision and goals.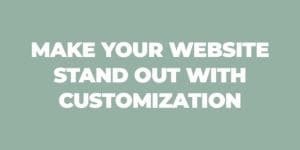 The low price of common websites built with templates make them appealing options. But you will definitely pay the price in the long run if your site doesn't fit who you are and gets looked past by potential customers. The explanation for a website that performs well and increases business versus one that doesn't could be as simple as an investment in custom design and code.