The goal of a website can be different for every business. Some companies use their website to provide information on their products or services. Other companies use their websites to sell products directly from the e-commerce stores. Regardless of the type of business, it is crucial to create a homepage that brings customers to what they are looking for immediately.
In this blog, we will cover why the homepage of your website is important, but why it's only a portion of the bigger image.
Creating websites that are engaging, animated, and intentional is our speciality. When we work with corporations to create a new custom website, we start by creating wireframes. The homepage is the first layout we work with, because it is the map to the rest of the website.
We want the homepage to be engaging and thoughtful. But we also want to ensure we are being intentional with the design of the other webpages. The reason for this is because not all website traffic enters directly into your homepage. If you post a blog and share the link on your social media, the first impression users get will be on your blog post. This is why all pages on your website must be intentionally designed and written.
For the vast majority of users who enter your website through your homepage, it's important they find what they're looking for quickly. Within just a couple seconds, website visitors get a first impression of your business simply by looking at your homepage. Since almost every business has a website, companies must invest in setting theirs apart from the competition.
Where does your website stand?
Upon entering into your homepage, do website visitors know what your company offers? Are they engaged and interested in exploring more of your website? Is your navigation easy to use and likely to take them to what they are looking for? If you answered "no" to any of these questions, it may be time to re-evaluate your website.
In the graph below, we show what is typically found on a homepage versus what users are actually looking for. Your portfolio, price range, or contact form don't all have to be featured on your homepage. The key is to make certain information easily accessible from your homepage. If users find it too difficult to navigate, they will eventually give up and leave to a different company for the information.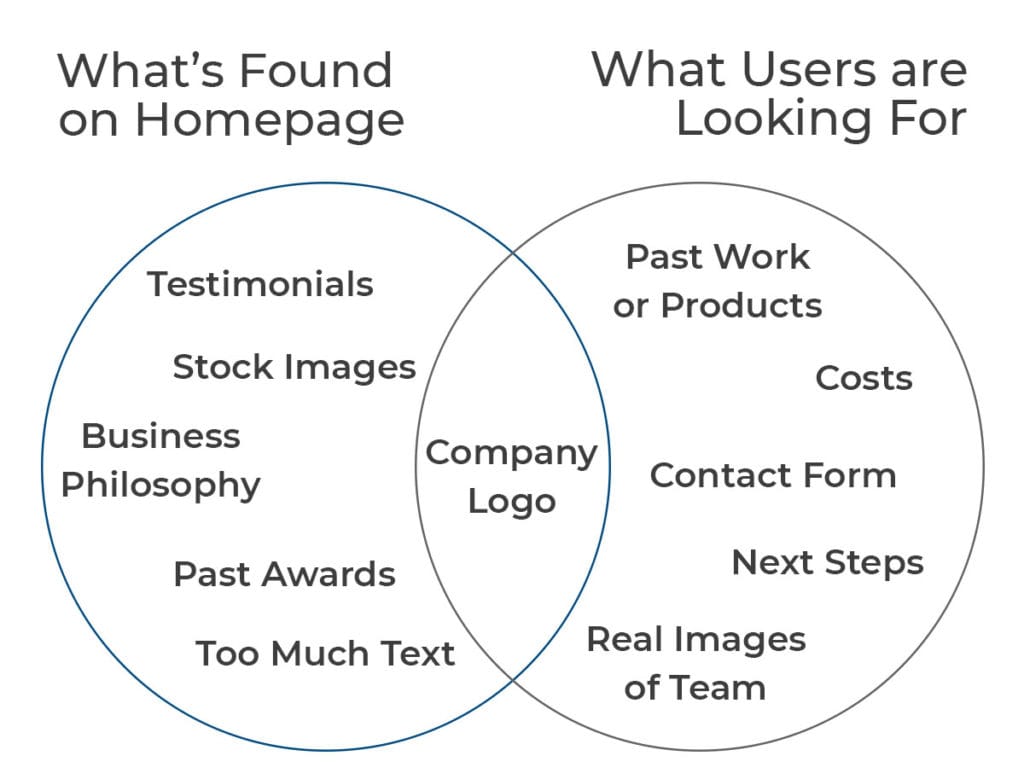 Read more about the elements that make a thoughtful homepage here.
We'd love to chat more with you about how to create an intentional homepage that serves as a guide to the rest of your website. Contact us here to start the conversation!