What does Lifewater do?
Lifewater drills new water wells, repairs broken ones, and provides health education for people living in Ethiopia, Uganda, and Cambodia. Since a 2016 report, Lifewater has served 120,000 people with clean water and health education. This number includes 250 water projects which provide clean water to schools and villages that previously were drinking dirty water.
Generally speaking, we all have access to clean water in the United States whether we have clean tap water or buy it at the store. The 120,000 people that Lifewater has served were previously drinking water from dirty streams and places that look like puddles and ponds. This produces major health problems.
Things including dehydration, malnourishment, and disease are the most common affects of a lack of access to clean water. To solve this problem, Lifewater partners with individuals and organizations to raise money for water projects, then they have their in-country staff work with village leaders to help implement water projects. 
What Lifewater Wanted To Accomplish
The trouble that we all have with the description of what Lifewater does as described above is that it's hard to visualize these problems and make a personal connection to the people affected. When we hear that there are people who don't have access to clean water and that our money can help solve the problem, we often think that it's a problem "bigger than me" and that my money won't be able to help that much.
The idea was to create a mapping system that plots where all water points, healthy homes/villages, and healthy schools that Lifewater has helped are located. This would allow individuals on Lifewater's website to see the impact Lifewater makes and connect in a real way with the positive outcomes clean water and sanitation have on day-to-day life.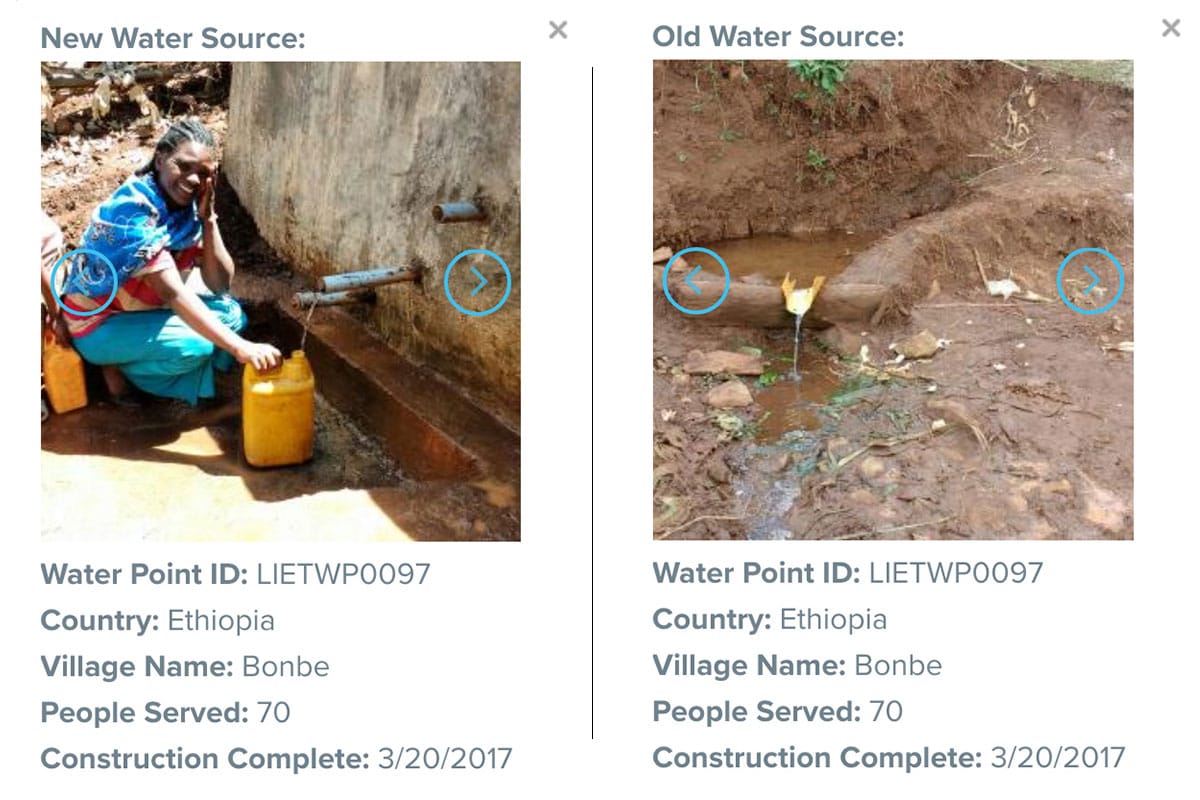 After browsing on the map, individuals can band together to help fund new water projects that Lifewater is seeking funding for.

Our Solution
Our team partnered with Lifewater's leadership to create a solution that connects the visual points on the map to a database in real-time. Lifewater is able to gather data on communities through their staff that are based in Ethiopia, Uganda, and Cambodia.
Staff members enter community data into a database that the mapping system ultimately draws from. Data points include: photos of families, family name, country/region, number of people with access to clean water, and when the home was awarded status as a "healthy home."
We love being able to work with companies such as Lifewater who make such an impact on our world. It is truly remarkable to see how many families have been affected by the hard work and dedication of Lifewater supporters. Be sure to check out their full website to get involved with this great cause.