One of our favorite things about being a custom website design and development company is that we get to work with organizations that operate with a purpose. We work several organizations who are on fire for their mission and want to grow. Although often overlooked, focusing on these 5 key things will increase engagement on your website.
1. A clear mission statement above the fold
Website visitors should know what problem you work to solve right away. A strong one-liner can make a huge impact and help website visitors know what you do without having to dig through pages to figure it out...they likely won't make it that far! A good resource that will help you develop a strong one-liner is storybrand.com.

2. Responsive design
This means that your website scales properly for mobile devices. It probably doesn't surprise you to hear that we are seeing mobile website traffic increase to over 50% of total website visitors. However, responsive website design is far behind when it comes to catching up to the mobile traffic trend.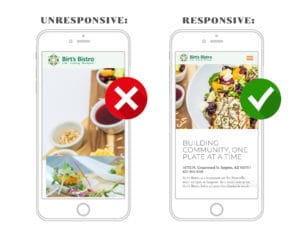 3. Properly sized images
An immediate change you can make to speed up your website is to resize image files that are slowing down your website. If you are experiencing slow page load speeds, you should first take a look at image sizes and see if you can trim down the size of the file.
4. 3 calls-to-action above the fold
When a new website user lands on your website, the best thing for you to do is get them to take action either by including 3 calls to action - a primary, secondary, and contact option.
The primary option should be the thing you want users to do the most - i.e. "See Projects" or "Our Programs" or "Our Solutions"
The secondary call-to-action could be a case study, white paper, or video that allows the user to immediately learn more about your organization if they are not ready to use the primary call to action.
Lastly, there should always be a prominent "contact" button on the top navigation bar that easily allows users to find and make a donation easily.
​
5. Well written code
The strength, speed, and appearance of your website is all impacted by how your website was developed. Many organizations use platforms like Squarespace, Wix, or the like when trying to do the website in-house without the help of a graphic designer or web developer. This can be necessary if you are working on a micro budget.
Other organizations hire web designers and developers to produce a professional website. If you are making this investment, make sure the designer and developer are doing custom work - meaning the developer is writing custom code, not simply setting up a theme and plugging in designs.
We prefer to build custom websites with WordPress as the content management system. When we hand off the website, things like copy and imagery are easily replaceable by the client. Custom work will drastically improve the speed, and appearance of your website.