Design Thinking
If you haven't heard of them, IDEO is a company that designs new products and experiences by deploying a strategy called "Design Thinking." They approach new product development with a design first mentality and draw from people across many disciplines. Design thinking is the process of designing for what future customers will actually want instead of relying on historical data or instinct versus evidence. How do you tackle your marketing team challenges?
For marketing teams, the same approach applies. As a marketer, you might be tasked with figuring out how to make your website integrate with other systems better. Or you might be tasked with figuring out how to convert more visitors into viable customers.
If your website is super old, you may be tasked with getting it updated it to reflect the culture that your company exudes.
No matter the goal, these tasks should be approached systematically.
What will your future customer want and how can you design a website experience that keeps them engaged and creates a desire for what you're selling?
How can you also use your website to save time with sales, marketing, and systems integration?
We tackle these questions and provide solutions for marketers who are in charge of making their website better.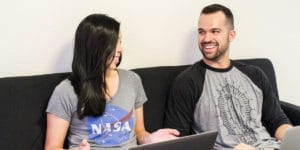 Integrating with systems that matter most to you
Do you have a CRM, ERP, portal, or marketing automation software that would be helpful to integrate with? We've seen organizations be successful when they integrate their contact forms with their marketing software so that contact form requests can enter a drip marketing sequence.
Integrating with a CRM like Salesforce is very common in order to get contact form requests into your contact database right away. Integrating with ERP's or internal work portals might save your employees, operations, and HR departments from using multiple platforms to access the information they need. When we build custom Wordpress websites, we utilize API calls to push and pull data from these systems.
Which is more important - visual aesthetic or conversions?
When you approach a problem with design thinking, you can work through the experience that your future customer would want on your website. An important principle we've learned is that visual aesthetic helps drive conversions.
When you explain your brand in a compelling way and you design a website experience that is interactive, you'll probably see a return on this investment. There is considerable work involved in achieving this - the sitemap has to be locked in and wireframes must architect the user experience.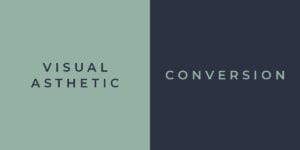 Competitor websites
One of the motivators for improving your website could be stemmed from a competitor improving theirs. When people search for keywords within your industry, it is likely that Google will give higher authority to a newer website with stronger content.
Improved and updated website design also evokes stronger feelings for a web browser about the legitimacy of a brand. A website largely functions as a way to inform and garner the respect of a potential client prior to entering into your sales cycle.
Newer websites that prioritize responsive design and content architecture make it really easy to win over potential customers before they even enter your sales cycle.
Difficulty updating your website
Perhaps the most common crutch marketers have is the inability to make easy content and imagery changes. The custom WordPress development community has changed this reality for businesses of all sizes and scale.
WordPress is a content management system built for organizations who want to be able to easily manage their website without the need to always call their agency to swap out copy or imagery. If you consult with an agency that develops custom websites and use WordPress as the content management system, you'll likely solve the problem of having a website that is really difficult to manage.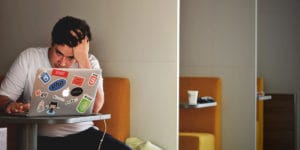 Establishing Industry Leadership
What is your company's sphere of influence?
What are you an expert at that other organizations can look to you to help them solve their problems?
In the corporate and non-profit sphere, there are still so many organizations that underutilize their blog or news/press page. If you have the ability and the knowledge to add a blog post at least once a month to your website, you'll gain extra search traffic, visibility to your website, and the authority for others to recognize your leading voice in your industry.