Products like Google Analytics help marketers understand what's happening on their custom website. But what are the key metrics that tell you if your custom website is designed in such a way that is producing successful results? Which statistics help you measure your website's performance?

For marketing websites, what are the top 3 things to keep your eye on that indicate people are interested in what you are offering?

1. Bounce Rate
You have 10 seconds to leave an impression on website visitors. If users are not impressed by your custom website or they are confused by what you offer, they will likely bounce, aka, leave after viewing one page. Bounce rate is important to measure because it indicates interest in your product or service and is also a great measurement of your website's performance.
An average bounce rate is somewhere between 40% - 55% meaning that roughly half of your website visitors will exit your custom website after viewing only one page. Like walking into a store, website visitors are attracted to receiving an experience and they want to know what you do and how you do it.
Mobile devices are projected to account for 79% of global internet use in 2018 according to zenithmedia.com, so it is important for your mobile site to look and feel just as good as it does on a desktop.
2. Page Procession
Once a website visitor has decided to stay on your custom website, you then want them to explore other pages and help them decide if your company is able to serve their need. Measuring a custom website's click-through rate gives you an idea about how engaged visitors are with your site.
According to KoMarketing, once on a company's homepage, 86% of visitors want to see information about that company's products/services, 64% want to see the contact information and 52% want to see "About Us" information.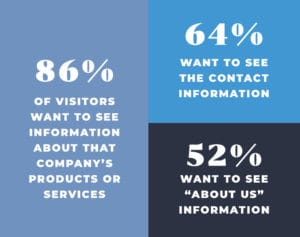 3. Contact Forms
Some businesses get lots of contact forms while others do not. It's important to note that paid advertising has a lot to do with how many contact form requests a company receives.
For more information on how to improve contact form requests - check out our posts about Facebook ads. For companies that partake in paid advertising, a great way to measure the ROI on those paid ads is if they produce actual contact form requests.
Ways to optimize your contact form to get more traffic and more contact form requests include: re-stating your mission statement/differentiators, requesting only the necessary information you need to contact them, and providing engaging imagery that captures attention and leaves the visitor with a warm feeling about your company.
-
You should always focus on measuring and improving these three statistics about your custom website to boost your website's performance. If you have a focus on measurement and testing different design and copy placement, you'll learn how to easily improve bounce rate, click through rate, and ultimately land more contact form requests.

-
Contact us
to receive additional help!